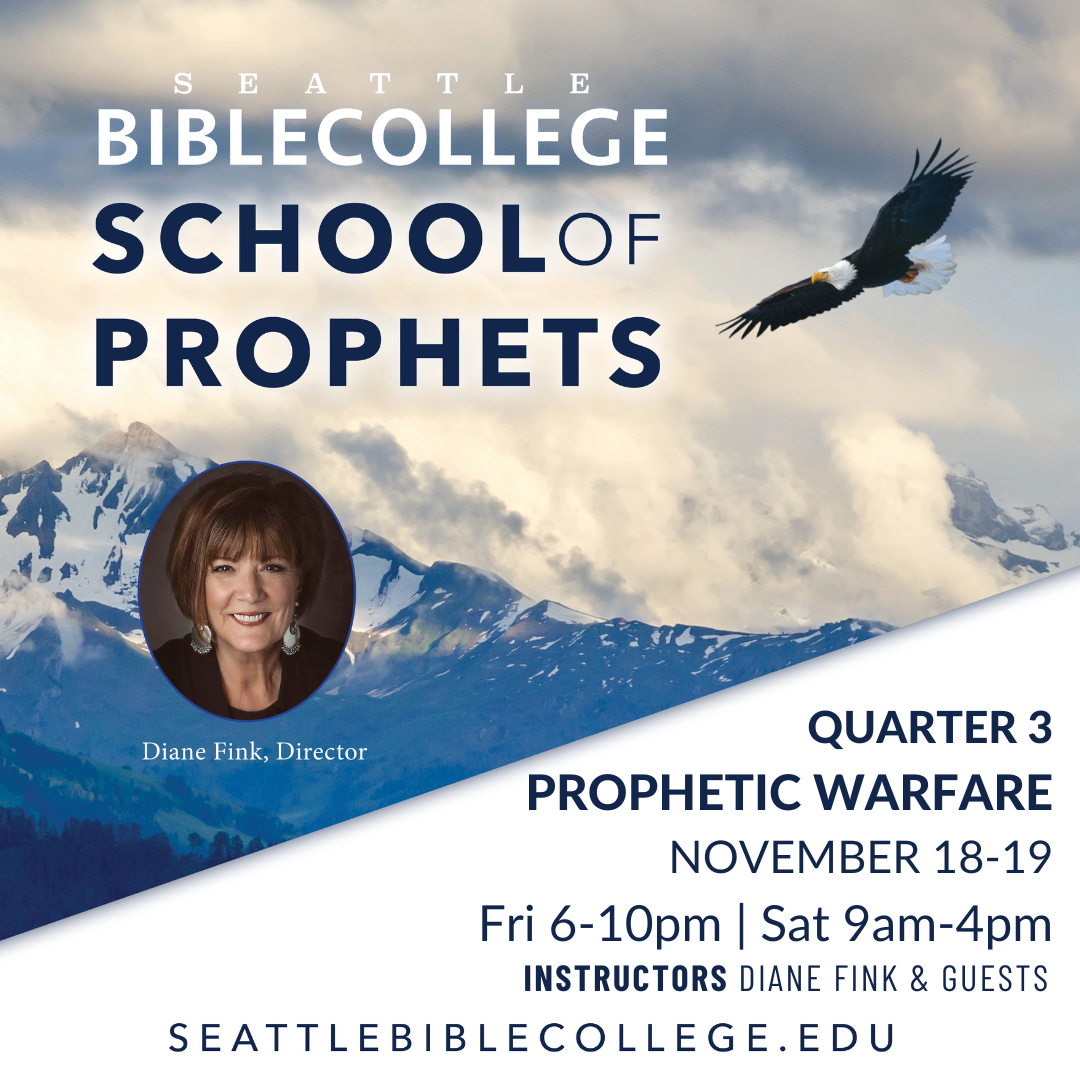 The School of Prophets is a three-quarter school designed to bring clarity and understanding of the personal and corporate use of prophecy.

School of Prophets Quarter 3 "Prophetic Warfare"
November 18-19, 2022
Friday 6pm-10pm & Saturday 9am–4pm
Instructor: Diane Fink
Available onsite or livestream

In this course, the student will learn what it means to be a prophetic warrior, how to walk in discernment and engage the revelatory for the purpose of intercession. It will help the student gain an understanding of the reality of warfare in the spirit realm and will equip him/her to function in their respective prophetic giftings.

Register today!
---
---
---
School of Prophets Quarter 1 & Quarter 2 are now available online!
When you register, you will receive the link to the video teachings, the syllabus including books for further study, and classroom handouts. Cost: $100 per course or bundle for only $150

---
School of Prophets, Quarter 1 PT/LS 445 | RML 680 Prophetic Impact I (Pre-Recorded)
Instructors: Diane Fink, Tom Gibbons, Dr. Dan C. Hammer, Pastor Herb Marks, Sherrie Graves
In this course you will receive a biblical foundation for understanding aspects of prophetic ministry and their operation.
---
School of Prophets, Quarter 2 BI 108-II | RML 680-II Advancing in the Prophetic
Instructors: Diane Fink, Dr. George Watkins, Dr. Dan Hammer, Tom Gibbons, Heidi Heck, Patrick & Christy Mawet
Have you ever wondered about engaging the spiritual realm? If you answered "yes," listen online in this second course in the School of the Prophets! We'll explore this aspect of the prophetic in areas such as prophetic intercession, the Seer gift, discernment, spiritual warfare, and perceiving the revelatory realm. Through teaching, impartation, and practice, you'll gain a greater understanding of your prophetic gift and how God wants to use you in His kingdom.
---
---
*To receive college credit for the course, please apply through our admissions page here:
---
---
---
---
The heart of Diane Fink's ministry is to see transformed lives, transformed cultures, and transformed nations. Desiring to bring Spirit-empowered change to others through her speaking, writing, and prophetic ministry, she imparts practical wisdom, spiritual insights, and sound Biblical teaching. Diane has authored several studies, numerous articles, and teaching materials, many on relationship and God's heart for His people. Ordained as minister and commissioned as prophet by her church, she equips people throughout the United States and has spoken in more than 20 nations in Europe, the Middle East, and Asia. As part of the prophetic team at her church, she participates in prophetic ministry oversight, and speaks at conferences. She enjoys teaching, imparting, and encouraging others in their gifts. Having served in leadership for more than 30 years in an international, trans-denominational ministry, she has a broad perspective of the Body of Christ and God's movement among His people. Diane serves on the Board of Directors of Marked, a ministry among orphans in Mexico, dedicated to empowering them to radically transform their lives and change their culture. She also serves as an Advisor for Sought Out Global, a ministry whose goal is to impact lives through personal encounters with the Holy Spirit in real and tangible ways. She lives in Everett, Washington, and has four grown daughters and several grandchildren.