isonrise.org will be going through a scheduled maintenance this Thursday, June 4th. The site may be down for a time.
Connecting With You During These Unprecedented Times
Pastor John and Grace have an important update to share about the re-opening of Sonrise. Watch the video by clicking on the picture or button below. This Sunday, May 31st we will be having an online service at 9am followed by a drive-up prayer time in the front of the church at 10:30am as we celebrate Pentecost Sunday. Next Sunday, June 7th we will be holding in-person services at 9am and 11am. We will be following the phase 2 guidelines laid out by the state and CDC. Watch the video for more details. See you soon!
Watch Pastor John & Grace's Update
New Declarations Card
---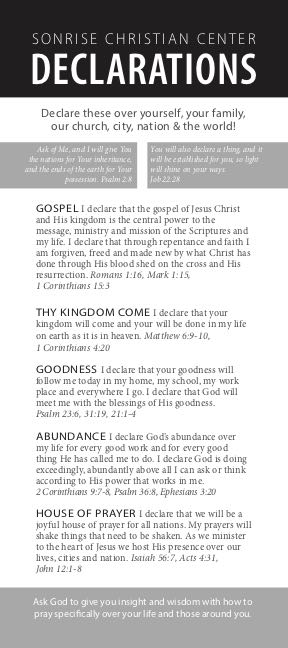 ---
We have made a few updates to the declarations card. Join with us in declaring God's word and truth over our families, church, and city!
Download the new card through the button below.
Download Declarations Card
Welcome To
Sonrise Christian Center
---
GIVING
---
In this unprecedented time, we are grateful for your continued generosity and commitment to seeing God's kingdom advance.
Parents for Safe Schools
---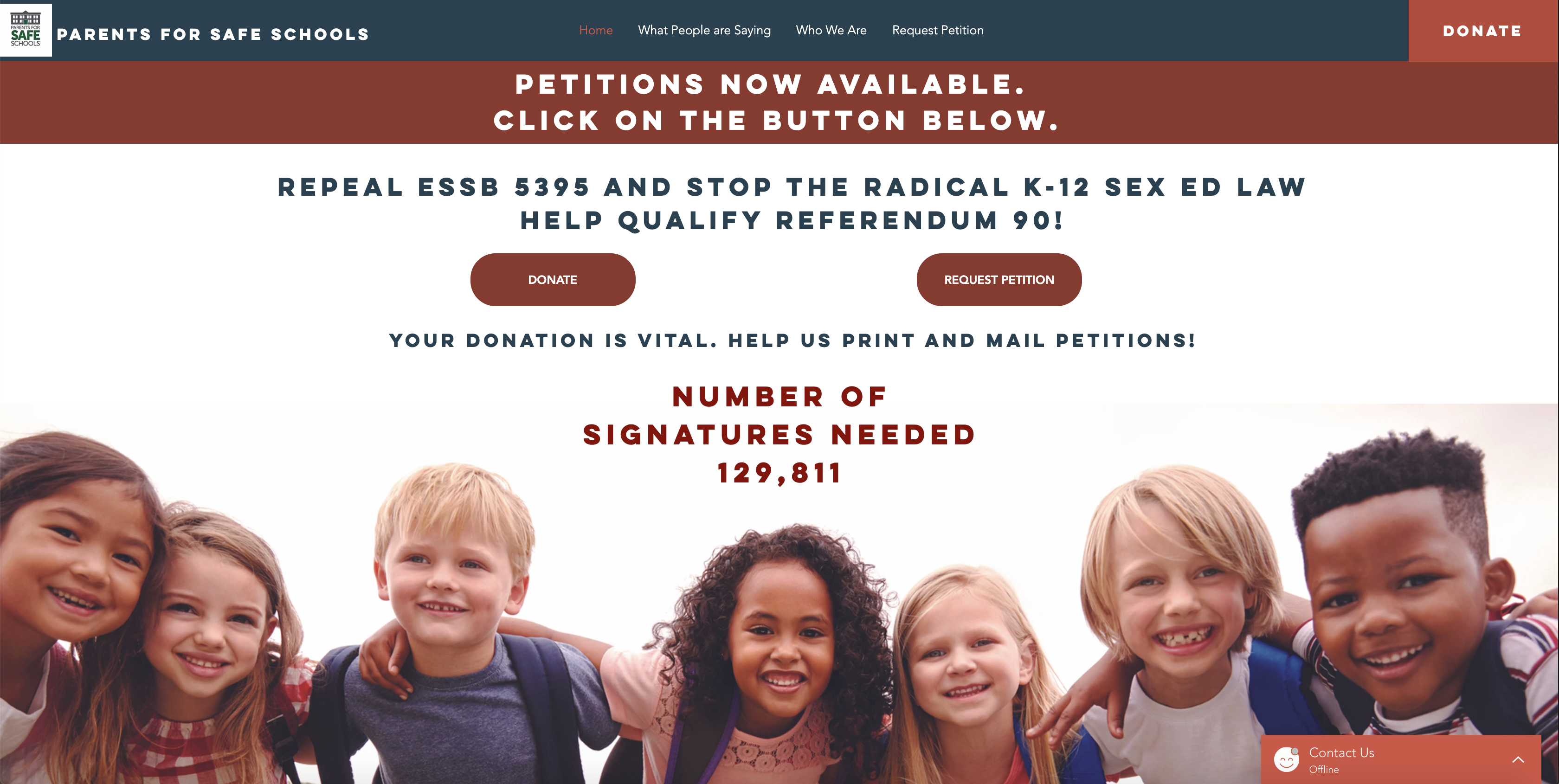 We want to encourage our church body to visit parentsforsafeschools.com and sign the petition to repeal the K-12 Sex Ed Law ESSB 5395.
They have 90 days to collect over 129,000 signatures. Let's use our voice to make a difference for our kids.
Visit ParentsForSafeSchools.com
NEW! Healing Soaking Prayer Album
We are excited to release the Healing album! This is a collection of supernatural songs of healing for soaking in God's presence. You can find the songs on Spotify, iTunes, Apple Music, YouTube Music and many other platforms. Also be on the lookout for YouTube premieres of the Healing album videos. May these songs bring you peace during this season!
Prayer
Virtual House of Prayer

We are launching a virtual house of prayer! For 24-hour prayer and fasting sign-ups, fill out the form below.

Prayer for others

Prayer chain to pray for others' requests.
Sign up below.
Care
Calls

We are loving on the people of Sonrise Christian Center through phone calls for encouragement and prayer.

Shopping

We have a newly assembled care team to help with calling, shopping for and delivering essentials to those who need them.

Receive

If you are in need of care call 425-355-9129 or CLICK HERE to request.
Share
Evangelize

It's time to share the gospel, look for opportunities to bring Jesus to people around you.

Equip

We will be sharing online content for you to participate in and share with others.

Represent Online

Represent will be all about sharing the Gospel in practical ways, how we can be the light in our neighborhoods, workplaces etc.
Unite 714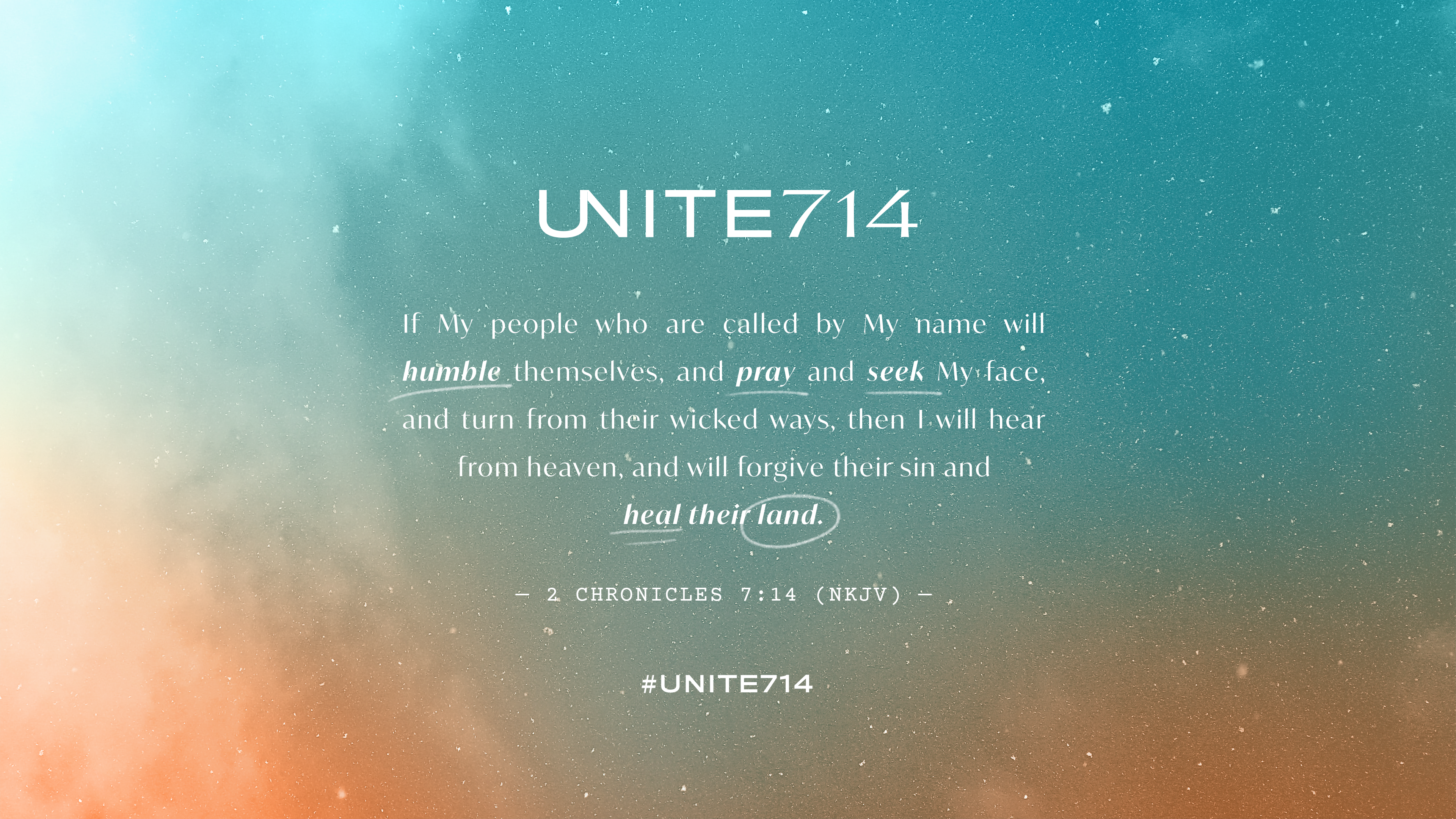 Pastors, leaders, churches, and individuals from around the globe are joining together — with one heart, one voice, and one prayer — to see the COVID-19 halted, lives healed, hardships mitigated, people come to Christ, and an outpouring of God's Spirit. Sonrise is uniting with the body of Christ through the Unite714 prayer initiative. We encourage all of our church family to be involved as we seek God's face at 7:14 am and 7:14 pm each day in prayer.
Unite714 Weekly Prayer
---
9am Live Online

Until further notice, Sonrise will be streaming live on Facebook, Youtube, and the Sonrise App at 9am only. If you normally join us at 11am you can watch 9am video on Facebook or Youtube immediately following the completion of the 9am service.
Classes

All Wednesday night classes are cancelled until further notice. We will update this site as details come out.

Relentless Youth

Relentless will be hosting a live youth message discussion on Instagram live or Zoom every Wednesday night at 7pm until services resume. Follow RELENTLESS on instagram @RelentlessSonrise
Online House of Prayer

House of prayer is moving to a virtual platform. Contact us at info@isonrise.org to get details. Please do not come to Sonrise as we will be be utilizing inline signups and having you pray at home.
Digital Weekly Video's

Friday at 6am through a Zoom video call. You can join this prayer call with your phone, tablet, or computer with microphone and camera. You can also just dial in with the provided number at the time of the meeting. Watch for an email from Rob Bingaman with instructions to join.

Download Zoom Today

By downloading the Free Zoom App on your phone, or on your computer, you will be able to join the meeting virtually using the camera and mic on your smart phone, tablet, or computer, and see the other faces of each other and pray together, having a more meaningful connection face to face all together! Headphones are a good idea during the sessions.

If you don't want to download the app, you can still join the call by dialing the phone number that will be sent to the MAN PRAYER email roster.

Create your free account at Zoom.us
Digital Weekly Videos

Kid's ministry will put out a weekly video lesson once a week on Facebook and YouTube.

Socials

Social Links

Like our Facebook page, and Subscribe to our Youtube account.
---
Sonrise has many home groups, prayer groups, special interest groups, and groups of all ages. Come be a part of a growing group!
Join a Group
---
Help Us Ensure We Have Accurate Contact info For You.
---
Just click the "FORMS" button below and update your info on our secure site.
---